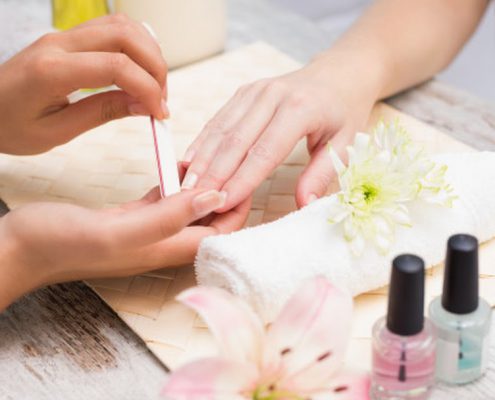 1. Classic Manicure…….$25
With collagen…….$30
This manicure comes with nail trimming and shaping, cuticle grooming, hot towel wrap, massage with hot lotion, and the application of polish.
Add French design for an extra $5!
2. Hot Oil Treatment Manicure …….$32
We recommend this service for you if you have dry cuticles or hangnails. It works very well to rejuvenate the skin in your hands!
3. Crystal Manicure…….$40
We use OPI products for this manicure! An upgrade to the Classic Manicure, this treatment also includes sugar scrub exfoliation, paraffin treatment, and the application of polish.
4. Collagen Manicure……. $45
Try our new special collagen mask! This is the perfect recipe for softer skin and a healthy glow. Each mask is preloaded with argan oil and collagen-rich emulsion to penetrate and moisturize the skin. This manicure combines the Classic Manicure with a refreshing collagen treatment using masks made with a micro-thin dual layered material that protects up to 98.9% of UV rays.